Why Use National Billing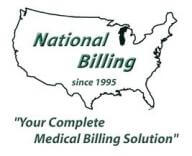 National Billing is a full service, practice management billing company, providing the practice with a comprehensive and cost effective solution to all of your billing needs.
Our staff has over a century of medical billing experience, medical billing is not new to us, and we have been a full service billing company for over 16 years. We know how to get your claims and bills paid, quickly and efficiently and we guarantee it!
We include an Electronic Medical Records module for FREE! The EHR is fully integrated with our billing software saving you time on charting, automating your office and reducing your paperwork. National Billing is a preferred partner with our EHR vendor meaning that our clients receive priority technical support and a personal representative that will contact you to help you set up your practice with the EHR.
Our software and computer system have the latest in medical billing software and claims are sent out virtually error free. Each claim is scrubbed for accuracy with the same edits that Medicare and the insurance companies check for and errors are detected and corrected before the claim is sent to the carrier. This scrubbing produces virtually error free claims!
We are HIPAA compliant; you are assured that your billing meets the HIPAA requirements. All our vendors and business partners are HIPAA compliant.
We are a national company serving providers all across the United States. Our staff is highly trained, courteous and is always there to answer any questions you, the insurance companies or your patients might have.