Studio Cabin Price Sheet/Cabins Descriptions
Come on out and spend the day with us or stay the night, week, or month.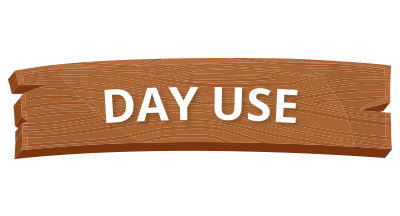 Day passes are always available, year-round and do not require reservations. Just come on out and enjoy your day!
You will want to bring your own chairs, table, BBQ and canopy. Do not bring any glass containers or bottles and no large/loudspeakers. You are to set up at the river.
All picnic tables are for designated camping sites, they are not there for day use.
Day Pass Times & Prices Are:
7 Days a Week, 10am - 6pm, $15/person
Holiday Weekends, 10am - 6pm, $20/person
Last time for park entry is 4pm.
Additional fees will be applied for entrance outside of posted times.

CHECK IN:

4:00PM |

CHECK OUT:

11 AM | QUIET TIME: 11 PM
Day pass fees applied for check in before 1pm. No guarantee your cabin will be ready early.
If your key is not returned by 11am, you will be charged an additional night.
Making Your Reservation:

Reservations are only required for overnight stays.
You can either book online for overnight stays or call 830-278-5515. Leave a detailed voicemail and you will receive a call back (possibly from a No Caller ID number).
Deposit:

50% payment is required at the time of booking.
Cancellations:

All sales are final. If a cancellation is needed, your initial payment will be saved as a credit for a future reservation within the same calendar year.
No refunds or reimbursements for inclement weather or early check out.
Pet Fee:

Cabin: $25 per pet, per night, $50 max per pet. Tent/RV - $25 one-time fee per pet.
Overflow Tent and RV areas & Pecan Bottom:

Every weekend between Memorial Day and Labor Day usually end up being sold out for cabins and camping sites with amenities.
We have overflow areas to be used for either dry camping or with a generator for your tent or RV.
Reservations are not needed for these areas, just come on out.
Prices and Policies subject to change without notice.
All of our cabins have a kitchenette with microwave, private bathroom and air conditioners (no heaters). The cabins do NOT come with towels, kitchen utensils or bed linens. Please bring your own. Fans are also recommended.
Cabins are priced for 4 people. Each additional person is $10 per night for the duration of the reservation. $20 minimum charge per person per stay.
No tents allowed in the cabin area. All tents must be in a designated camping site.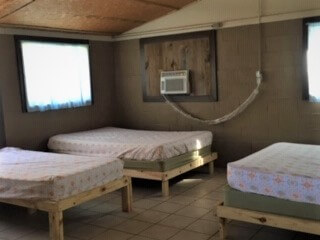 Large Studio (Stand Alone):

Cabins: Katy, Barbara, Russell, Martha, Sam, Heidi, Juan, Sibyl, Gasper, Pearl,
Christopher Robin, Pooh, Tigger, Eeyore, Piglet, Roo, Kanga


$119 per night + tax and fees
Studio style (one large room). 2 full beds and 1 twin. A/C, table, chairs, full refrigerator, microwave and a charcoal bbq outside.

Cabin sleeps 5 with a max of 8 if you bring an air mattress or cot.



Small Studio (Dwarf Cabins):
Cabins: Doc, Happy, Sleepy, Bashful, Sneezy, Grumpy

$109 per night + tax and fees
Studio style (one large room). 2 full beds. Cabin sleeps 4 with a max of 6. Full Fridge.