Post-Traumatic Stress Disorder: Condition and Symptoms
Post-traumatic stress disorder (PTSD) is an anxiety disorder which results from experiencing a traumatic event. Experiences which lead to PTSD normally involve fear, helplessness, or horror. Witnessing a traumatic event does not always trigger PTSD; the majority of people are able to cope over time. If symptoms worsen and don't eventually subside, then PTSD is often considered as a diagnosis.
Post-traumatic stress disorder is also known as post-traumatic stress syndrome, battle fatigue, or shell shock. PTSD does not only stem from war experiences, but also results from childhood abuse, rape, violence, or even traumatic natural catastrophes, such as earthquakes.
PTSD increases your risk for developing problems such as depression, drug addiction, alcohol abuse, eating disorders, and suicide. Not only does PTSD not only affects one's emotions and thoughts, but it has also been linked to physical conditions such chronic pain, heart disease, and rheumatoid arthitis.
PTSD symptoms usually show up within three months of a traumatic event. Sometimes, however, a PTSD-like reaction can be delayed for years. Symptoms are unpredictable but frequent and are more likely to occur during times of great stress. The disorder can also be triggered by occurrences in everyday life that are linked to a traumatic memory.
Symptoms can include:
Flashbacks, or believing you are reliving the traumatic event

Visual or auditory hallucinations

Night terrors relating to the traumatic event

Inability to think or talk about the traumatic event

Feeling emotionally numb

Avoiding normal activities and hobbies

Having severe trouble with your memory

Extreme difficulty concentrating

Inability or difficulty in maintaining close relationships

Irritability or anger

Overwhelming feelings of guilt or shame

Self-destructive behavior

Difficulty sleeping

Easily startled or frightened
Treatment for post-traumatic stress disorder functions the best when it follows shortly after the symptoms begin. A typical treatment will include counseling and psychotherapy, usually combined with medication (including anti-depressants, anti-anxiety drugs, and anti-psychotics). Other alternative therapies involve eye movement desensitization and reprocessing in order to cope with traumatic memories and flashbacks.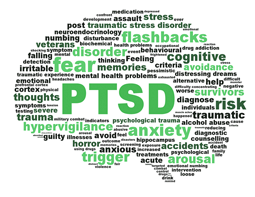 Post-traumatic stress disorder usually fits under either Section 12.06 of the Listing of Impairments or a Medical-Vocational Allowance.
Most PTSD claims are approved by what is called a "medical vocational allowance." This means that the SSA doesn't find your symptoms to match the criteria for a "Anxiety Disorder" listing, but acknowledges that your symptoms prevent you from performing your previous work or another job where you could earn "substantial and gainful" income. Claims of this sort are approved if the applicant provides documentation of the following:
Being markedly restricted in normal daily activities (i.e. inability to function outside one's own house),

In social functioning, concentration, and/or

Experience worsening psychiatric symptoms.
Some disability claims for PTSD are approved by meeting the Social Security Listing of Impairments' requirements under "Anxiety Disorders." To meet the requirement of the anxiety listing, you must document your experiences of the following: disruptive flashbacks, nightmares, or memories that regularly cause you "heightened distress." Because this listing fits under the "General Anxiety" definition, it means you suffer from near-extreme anxiety or emotional disturbance, not merely disturbing memories that make you uncomfortable.
When you present your disability claim, your medical records should include at least one detailed description of the anxiety-related episode you experience(d). The description(s) should include the nature, duration, and frequency of the anxiety reaction and the effect(s) the anxiety reaction has on your ability to function. It should also include incidental factors that may cause or worsen the anxiety reaction. In addition, this description should indicate whether the description of the anxiety reaction matches your doctor's own observations.
Your Post-Traumatic Stress Disorder Disability Case
If you have been prevented from working due to your symptoms, you are probably eligible for Social Security Disability Insurance (SSDI) or Supplemental Security Income (SSI). Working closely with medical professionals and a qualified Utah Social Security Disability attorney is the best way to collect and eventually present the documentation to support your claim.
Hiring an SSDI Attorney
In cases of filing for benefits with a PTSD disorder, there are no guarantees for qualifying. The best way to ensure you receive the benefits you deserve is by retaining a knowledgeable Social Security lawyer. While the overwhelming majority of all applications are rejected at both the initial and appeals stages, nearly two-thirds of cases brought to a hearing (with a competent lawyer representing the disable person) are accepted. Call the Summit Disability Law Group and let us help you navigate the complicated legal structure so you can receive the benefits you deserve.
If you are suffering from PTSD give the Utah Disability Attorneys a call. We want to help you get the compensation you deserve.
References